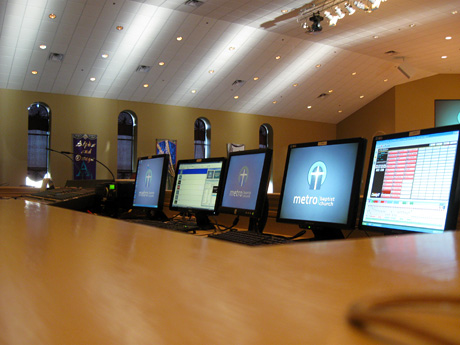 System Design
Our systems perform well because they're designed well. Corner Audio & Video listens to your needs, first. We then combine our experience with the most innovative products to provide the right system for your space and budget.
The Result:
We deliver turnkey systems that work perfectly from day one.
Our media systems deliver clear, appropriate sound levels and increased visibility to every part of your worship, entertainment or athletic space.
Wherever possible, we mount components discreetly so the focus stays on your event, not on the equipment.
How does the design process work?
Every project offers unique challenges, so we offer individually tailored solutions. We begin by scheduling a visit to evaluate your existing system and space, and to assess your needs.
We take every aspect of your space into consideration, including:
Size, shape and angles of the room or space
Number and placement of windows
Materials used in walls and seating
We then partner with our acoustic specialists and equipment suppliers to create the best possible sonic environment for your event space.
Here's what you can expect:
We will assess your existing building or sanctuary.
If you are designing a new space, we will work from your blueprints.
We will create a system blueprint or design plan.
We will provide a list of all recommended equipment.
We will submit a budget and time frame for project completion.
Once all details have been reviewed and approved, we will schedule your system installation.
Learn more about the installation process.