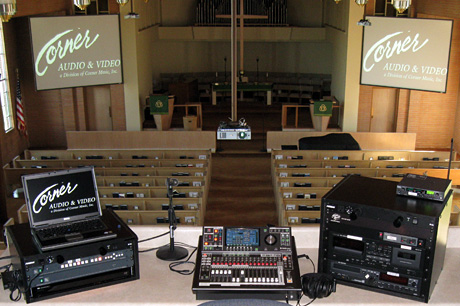 About Corner Audio & Video
Corner Music opened in 1976 to meet the needs of Music Row's musicians, songwriters and recording professionals. Corner quickly became one of Nashville's most trusted sources for professional musical equipment.
At that time, many churches were starting to blend contemporary music and media into their services. To address requests for high-quality multimedia production systems, we created Corner Audio & Video.
Our experience designing and installing systems for touring artists, studios and music venues helped us create cost-effective solutions and high-level service for churches, schools and athletic facilities.
Today, Corner Audio & Video has grown into a full-service design-and-build company. We install complete audio, video and lighting production systems for any size facility—from traditional sanctuaries and contemporary worship halls, to football and soccer fields.
It would be our privilege to help you upgrade your current system or design a new one. We look forward to serving you now and in the future.